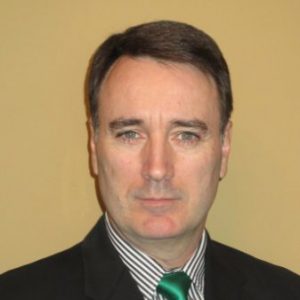 Summary of Qualifications
Jerry has worked as a trainer for various ISO Course Providers for ISO 14001, ISO 9001, ISO 13485, and OHSAS 18001. Jerry teaches all levels of EMS, SMS and QMS courses including RABQSA accredited Lead Auditor courses for auditor certifications in North America. Jerry teaches Internal Auditor and Implementation courses for the 14001, 9001, 13485 and 18001. Jerry received Six Sigma Quality Engineering certification while in the medical device industry.
Jerry Poague's career spans 20 years in the manufacturing industry as a Project Engineer, Technical Consultant, and Engineering Manager. Jerry holds a Bachelor of Science in Mechanical Engineering, supplemented with an MBA education. Jerry has also supplemented his education to enhance with programs such as Six Sigma Engineering certification in Medical Device, ISO 9001 Quality Management Systems (QMS), ISO 14001 Environmental Management Systems (EMS), OHSAS 18001 Occupational Health&Safety Management Systems, CE Mark, cGMP's, HACCP, and others. Over the past 10 years, Jerry has used this industry experience as a consultant and trainer. Jerry is a RABQSA Certified Auditor for ISO 14001 Environmental Management Systems, OHSAS 18001 Safety Management Systems, and ISO 9001 Quality Management Systems.
Jerry's has engineering and management experience, beginning in the appliance industry, and progressing into FDA regulated industries including medical device manufacturing. This included management at a division level with responsibilities for four manufacturing plants, and finally to an Engineering Manager with responsibilities for facility and environmental and safety systems including implementation of ISO 14001, ISO 9001, environmental permits and compliance, and facility management.
Jerry also has experience implementing OHSAS 18001 safety systems, Lock-out-Tag-out, Confined Space entry, machine guarding, Class 1 Division 1 explosion proof rooms, and other Safety/OSHA functions. Jerry has technical experience in numerous machinery and equipment installations such as Waste Water Treatment, Clean Rooms, water purification, packaging, automation, custom designed equipment and installation validations, and new product development.