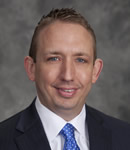 Commercial Risk Advisor – FW Offenhauser & Co.
Mr. Korey Keith is a Commercial Risk Advisor for FW Offenhauser & Co. in Texarkana. Before entering the insurance world, he served in various capacities within the banking industry and served as a community bank president for 8 years before moving to the insurance industry.
His Civic involvement includes being Chair of the United Way of Greater Texarkana Area as well as serving on the Texas A&M-Texarkana Athletic foundation, along with other non-profits in the area. He is currently the vice chairman for the Texarkana Chamber of Commerce and will be chair in 2018. He graduated from Harding University with a degree in Accounting and received a Graduate degree in Banking from SMU".