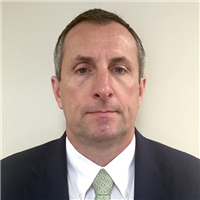 Senior Special Agent – United States Secret Service
Terry was born and raised in Warren, AR. He graduated from Southern Illinois University with a degree in Industrial Engineering. He previously worked as a Manufacturing Engineer for Jacuzzi Brothers for 10 years.
Terry joined the United States Secret Service in 2000 and has been assigned to the Little Rock Field Office, Counter Assault Team and Presidential Protective Detail. He currently serves as a Senior Special Agent in the Little Rock Field Office. He became part of the Secret Service Electronic Crimes Special Agent Program (ECSAP) team in 2002, where he conducts computer, cell phone and tablet forensics and electronic crimes investigations. He was certified as a Network Intrusion Responder (NITRO) in 2015 and a Certified Information Systems Security Professional (CISSP).