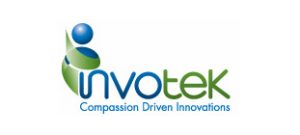 Since 1995, InvoTek has focused on pursuing innovative ways for people with disabilities to access computers, environmental controls, and augmentative communication devices. This niche market has great needs but few resources. InvoTek has been reliant upon federal research grants to develop its sophisticated devices. Unfortunately these federal grants are designated for research use only and cannot be used for ordinary business expenses. As a startup company, InvoTek, has lacked the financial capabilities to carry out the normal operating expense that are critical to running a growing technology-based company such as expenses associated with submitting grant applications, budget forecasting and search engine optimization (SEO) marketing efforts to make it easier for customers to find them. The innovation and technology of InvoTek was at risk of not reaching the people who need it most due to the lack of capital to investigate technology, develop financial models, implement SEO marketing efforts.
The president, Thomas Jakobs, contacted Arkansas Manufacturing Solutions (AMS) and the Arkansas Science & Technology Authority (ASTA) for assistance to secure the finances to develop a financial model, prepare grant applications, optimize its website and research new technology. Mr. Jakobs applied for and received multiple Technology Transfer Grants (TTAG) from AMS and ASTA, which helped the company secure multiple SBIR Phase 1 and Phase 2 awards, create new technologies, facilitate SEO for InvoTek's website, and fund critical business needs.
As a result of the work with AMS and ASTA (2001 – present) and the TTAGs awarded, InvoTek was able to secure multiple Phase 1 and Phase 2 SBIR awards totaling over 5 million dollars while retaining 2 employees that would have been terminated. Their website received the SEO that was needed and InvoTek was able to finish development, successfully research and launch their most current technologies. Technologies that were developed using SBIR funds are AccuPoint head tracker, SSR Dysarthric Speech Recognition, Sale Laser Systems, Voice Switch, and Word Psychic Word Predication.
InvoTek, (InvoTek, NAICS 334111) started in Huntsville, AL in 1988, spent 1989-1997 at University of Arkansas' Genesis Business Incubator and in 1997 relocated to Alma, Arkansas. InvoTek is a research and development company with 7 employees. Its goal is to improve the quality of life for people who find it difficult or impossible to use their hands by giving them new, efficient ways to access computers. InvoTek develops innovative assistive devices that open the door to independence, communication and interaction for people with severe disabilities. They provide both technology and support services so that people with disabilities have the resources they need to succeed.
With the help of Manufacturing Solutions, InvoTek has received over 5 million dollars from 25 SBIR Grants allowing us to invent a broad range of innovative technologies which give people with severe disabilities the ability to live more independently.

Thomas Jakobs
InvoTek
President