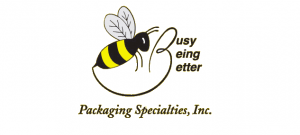 Packaging Specialties has benefited from their innovative packaging processes and machines by servicing over 20 different food and non-food industries. They have relied on excellent customer service to maintain these customers. However, in more recent years they have had difficulty sustaining continuous improvement. They were looking for growth through implementing innovative ways to improve their processes and streamline capacities.
Packaging Specialties, Inc. attended an open enrollment Lean 101 workshop offered by AMS, a NIST MEP affiliate. Following this workshop the plant manager and sustainability coordinator inquired about other Lean classes and certifications. At that time, the company's Overall Equipment Effectiveness was running about 26%. A year later, the company contacted AMS about Kaizen events and problem solving training for some managers. Earlier this year, Packaging Specialties, Inc. took 16 supervisors and managers through the AMS Lean Certificate series customized for their manufacturing needs and processes.
Company: Packaging Specialties
Packaging Specialties, Inc. was founded in Fayetteville, AR by Hays Biggs in 1974 with an initial focus on the U.S. poultry tray pack market. The company pioneered the use of printed PVC stretch films for poultry products and carried this packaging technology to the produce and red meat industries as well as others. With three printing facilities, Packaging Specialties provides printed films to over 20 different food and non-food industries with graphic composition from one-color continuous to 10-color process printing.
The training and guidance we received from Manufacturing Solutions opened the eyes of our supervisors and managers to see the waste and attack it. Through knowledge and practice of these new concepts, we were able to improve our OEE in just one year.
Rod Alderson
Packaging Specialties
Production/Plant Manager